Equality, Diversity & Inclusion Consultation feedback
Thank you to everyone who responded to our Equality, Diversity & Inclusion (ED&I) consultation. The feedback you have given us has been invaluable in helping to shape our strategy. We received 40 responses to the short survey about the strategy. 
When asked, 36 people said yes, they thought that Tai Calon should have an Equality, Diversity & Inclusion strategy but 4 people answered no.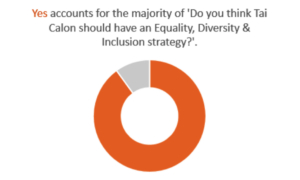 20 people told us that they thought we were focusing on the right areas. However, 11 people said we weren't focusing on the right areas in our ED&I Plan, and one person left the section blank.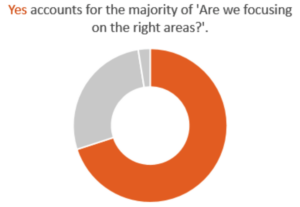 When asked was anything we hadn't thought of that you like to add, 22 responded to this question, with 7 of those saying no.  
New Tai Calon Website
We wanted to find out what our customers thought of our website and what improvements we could make when developing our new one.
We asked customers to complete a brief survey on what they used our website for, along with what they liked and disliked. We also held a focus group to discuss things in more detail.
Our customers told us that reporting repairs, paying rent, looking for homes and finding out what is going on in the local community were important.
We had also had great feedback on the website itself which identified areas we can improve, which included:
Accessibility issues, the site does not work on Android and the main colours on the site do not work well together if you have a visual impairment!
Customers find it hard to find the information they need as everything is very wordy and they do not have to time to sift through the abundance of information.
Would love a clearer careers page where all the job descriptions sit on the page rather than going elsewhere.
Would love to see more meet the teams across the business rather than just senior managers
Would like a page on repairs – list of what we (Tai Calon) can complete and if we do not, list of Tai Calon approved companies who you can call
Add information on repairs tenants could potentially fix themselves e.g. – draining a radiator, temporary fix to a small leak until we can come out
The feedback will now be used by our communications team to make sure our new site meets our customer needs both now and in the future.
Rent setting for 2022/2023
We recently asked our customers for their opinions on what are the services we deliver that matter the most. We also wanted to know what our customers thought about how affordable their rent was.
We had 194 responses and our Board have used this information to help them make decisions on how much rent customers will need to pay from April 2022.
Here's a summary of what you told us.
69% said their home was affordable
The top 3 most valuable services we offer were repairs and maintenance, customer services and estate services
The top 3 most important things that you told us make a home were a well-maintained home, a safe and secure home, and a peaceful neighbourhood.
64% either strongly agreed or agreed that as the cost of delivering services goes up, we should  protect the level of service we offer.
44% said that cost of rent was a major factor in where they choose to live
We also had some really helpful feedback on what customers thought about how fair we are in setting rent and other charges, we will be taking this feedback and using it to help to continue to improve the way we deliver services, particularly repairs and maintenance.
Helpful Resources