The Tai Calon Christmas Appeal 2022 has been a huge success and raised a fantastic £10,549.90!
So far, these are the ways in which the money raised has been spent to support local children, young adults, and their families over the festive period;
Providing toys and gifts to 13 families – 20 parents and 34 children.
Delivering 63 food parcels, feeding 172 people. These contained breakfast items and drinks, main meals, sweet treats, a stew pack, a bag of potatoes, a voucher for the butcher, toiletries and other essentials.
The Trussell Trust, who run the five foodbanks within Blaenau Gwent.
We still have money left to spend from the donations made to the Christmas Appeal. This will be focused on helping those facing difficulties during the cost of living crisis, where tenants are struggling to provide the necessities of food and warmth for themselves and their families. One of the ways we will do this is when a tenant requests a food bank voucher but they have exceeded the number allowed, we will provide a food parcel.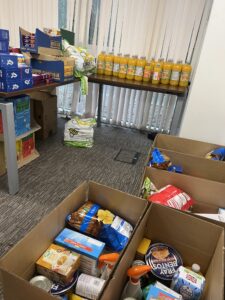 We will also look to provide financial donations to the Trussell Trust, to support in their distribution of food parcels and to the warm hub provisions that provide a warm, safe space to those in need within our community.
Thank you so much to everyone who donated to the Christmas Appeal, and a massive thank you to the team who volunteered their time to make the Christmas Appeal such a success, ensuring all deliveries were made in time for Christmas.