Both 2022 and 2023 have been very important years for Tai Calon from an environmental viewpoint. Following on from the pandemic and the scaling back or stopping of many of the works we normally undertake, the last two years have seen us get back into the swing of things and we are now beginning to see the benefits of this hard work.
This year has seen us press on with several existing projects and begin some new ones on the back of our success stories.
Go Wild
Tai Calon attended the fantastic Go Wild! event funded by the Local Nature Partnership (of which we are members) again this year. We gave away plants and seed packets to very grateful attendees and discussed with people the array of environmental improvement works which Tai Calon undertakes. This year we also helped children and families build bird boxes on the day. Much to the enjoyment of all involved all 20 bird boxes were built by those who had booked on with assistance from our fantastic volunteers.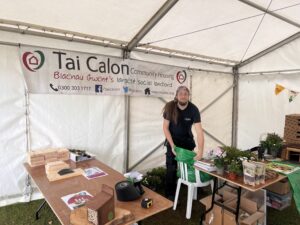 Local Nature Partnership
Tai Calon continues to hold a place in the Local Nature Partnership alongside representatives from BGCBC, Torfaen Council, emergency services, other housing association and an array of environmental groups and organisations from across our borough and neighbouring ones. The partnership discusses, plans and enacts environmental activities across our areas of influence and ownership to ensure we follow a unified approach to our projects and have the greatest positive impact possible.
Wildflower Planting
Tai Calon began planting up several areas in 2022 following plans we made prior to the pandemic; this work has been expanded upon this year across a dozen sites from Brynithel to Tredegar. The purpose of this has been to enhance our sites with native wildflower species to support pollinators as part of the ongoing efforts of our Bee Friendly commitments.
Nature Isn't Neat areas
Tai Calon continue the Nature Isn't Neat project alongside Blaenau Gwent County Borough Council. This involves a reduced cutting regime in areas of non-amenity land with several associated benefits. It showcases the array of native plants which will grow in these areas, provides food and shelter for insects and allows these insects and pollinators to thrive and benefit the wider environments. These areas are cut once or twice a year, and we remove all the grass that we cut when we undertake the work. If the grass is cut and left behind, new wildflowers aren't always able to grow.
Joint working with BGCBC
Tai Calon work very closely with our colleagues in Blaenau Gwent County Borough Council (BGCBC) and support each other wherever we can. BGCBC are currently working on a new Pollinator Policy and Grass Management Policy which Tai Calon have been involved in and are written in to.
We have also been in talks with them to create enhancement areas around their land and our estates where we can introduce native hedgerows, flowers and trees to support the fauna that live in these areas and encourage biodiversity and growth. Of particular note will be the protection and enhancement of the Slow Worm Breeding site on land owned by Tai Calon in Brynithel.
Working with Local Schools
We have attended school environmental days at Bryn Bach Park, taking out groups of children from local schools to explore wilderness. The events have been organised by BGCBC and are run in conjunction with Tai Calon, Aneurin Leisure and other local environmental groups to teach children about the importance and many benefits of the natural world around us.
Hedgehog Highways
For many years now we have been involved in the Hedgehog Highways programme, supporting the wellbeing of the native mammals with a few small changes in the way we work. This has involved adapting all new fences installed by our Clean & Green teams and the Garden Improvement Team contractors with a small hedgehog hole to create a network of pathways around our estates to open them up for use by hedgehogs foraging for food and shelter.
Important development at Solis One
We invited two of the ecologists at BGCBC to undertake a bug hunt through our office grounds at Solis One and were incredibly surprised by their findings. An enclosed meadow area in the trees at the rear of the building was found to host a number of Nursery Web Spiders, solitary bees and nationally rare Dingy Skipper butterflies. This was hailed by the ecologists as a tremendous find and a testament to the fantastic work undertaken by our Green Earth team to promote biodiversity.
Bee Friendly
We have recently been successful in receiving the Bee Friendly Award! This means that the certificate recognises that Tai Calon Community Housing is Bee Friendly and has committed to; 
Provide pollinator-friendly flowers throughout the year.

Give places for insect pollinators to live.

Avoid chemicals that harm pollinators.

Involve all the community. 
We hope to continue our efforts of being Bee Friendly and will admit a further application next year to keep our Bee Friendly status!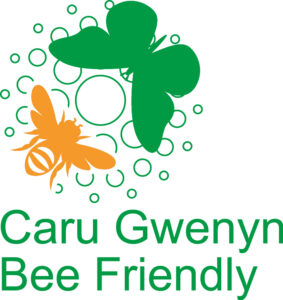 Reduced Herbicide Use
We have continued our commitment to reduce the use of herbicides on Tai Calon's land to the treatment of invasive non-native species such as Japanese Knotweed and then wherever possible limited to stem injection methods. This has been done to limit the damage caused by herbicides to insect life in the area surrounding the plants and also to mitigate the collateral damage caused by over-spraying methods which can harm other flora in the vicinity.
Tiny forest scheme
Tai Calon are in the planning stages of establishing Tiny Forest projects across our estates. Individual projects involve planting small areas of native trees and are focussed on urban sites to have the greatest benefits on health and wellbeing while also sequestering carbon from the atmosphere. There are already a number of tiny forest sites in urban areas across South Wales and we hope to add to that number.
Tree and Woodland Management
Tai Calon has had another independent tree survey carried out recently which highlighted a number of trees across our land which will need to be visited in the coming years. With the addition of our new trainee arborist and the hope of further developments to our tree management team in the near future, the exemplary work of the team will be future-proofed and continue in coming years.
Community Groups
Tai Calon continues in its support for an array of environmentally minded community groups across our estates. With activities ranging from litter picking and fun days to plant giveaways and bug hotel making, there are a variety of things to get involved in and multiple groups hoping to engage our expertise and love for nature. We have recently attended Sirhowy Woodlands Big Plant and Veg Giveaway and will be visiting Glyncoed Community Group to help with Birdbox Making and Geocaching activities.