The Winter Warmth Project is a new endeavour created to support two groups of people. The first is participants in the Growing Space mental health charity. The second is elderly Tai Calon tenants who live independently and find it difficult to heat their homes due to the cost-of-living crisis.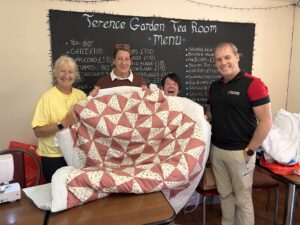 The plan is for Growing Space, a charity that supports individuals with mental ill health, autism, or a learning disability, to make single bed sized, quilted blankets. One of the participants, Karen, brought her skills to Tai Calon's Wellbeing Officer, Darren Foote and the idea flourished from there. Growing Space supervisor Jackie and participants, including Tracey and Karen, have started to make the first few quilts. Soon, more participants will learn new skills in sewing, material cutting and measuring, feeling like they have contributed to a good cause and making them feel fulfilled.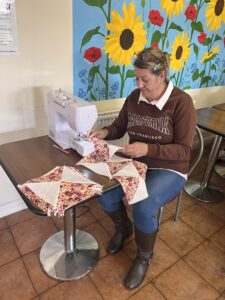 The blankets, once made, will then be given to a tenant identified by Tai Calon's Wellbeing and Lifft team who needs extra support during winter to help keep them warm during the day as well as an extra quilt to top the bed in the nights.
Darren gave the first quilt to Mr Phillips, a Tai Calon Tenant. Mr Phillips is 72 years old, lives alone and has had a leg amputation. When he was hospitalised, Mr Phillips was extremely grateful that Tai Calon ensured his house was fit for use with a wheelchair by the time he got home. Mr Phillips said
'Tai Calon was very helpful when I was hospitalised. I didn't have to worry about anything, it was all done by the time I got home. Every time I have phoned with a problem, Tai Calon are marvellous.'
Mr Phillips has a lot of pride in his house and loves to watch TV in the evenings. When Darren gave him the quilt, he said he was looking forward to using it as a blanket in the evenings to watch TV and now that the summer is behind us, Mr Phillips is looking forward to having a good night's sleep knowing he is warm enough.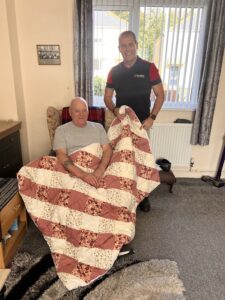 Mr Phillips was extremely grateful for all the hard work put into making his quilt by the Growing Space group and said
'I can't get over the quality and the thickness of the quilt. It's fantastic. Thank you so much!'
The Growing Space group have been working hard behind the scenes to create more quilts for our tenants before the weather gets colder. We look forward to giving these to people who need them through the cold season.