We understand that the rising cost of living may mean you struggle to heat and ventilate your home, which may increase the risk of black mould forming.
We are continuously improving how we deal with damp and black mould. Even the most modern homes can be affected by mould without the right care and attention.
We have updated our advice to customers on our website about how you can report damp and keep your home free from black mould, as well as where you can get help.
Condensation is more likely to occur during colder months. If you experience recurring mould that you can't keep on top of as part of a regular cleaning routine or have any concerns about recurring mould growth in your home, don't hesitate to contact us so we can start an investigation. We can work together to discover the cause problem.
The Royal Institute of Chartered Surveyors (RICS) says that damp is "Unwanted moisture in a building or moisture that should not be there." Too much moisture can damage the structure, decoration and furnishings in your home and help mould grow.
Mould can be either caused by condensation or dampness. Damp can be caused by water entering the home from outside or leaking inside.  Did you know lots of moisture is created in your home every day by everyday activities carried out by simply living normally in your home? The RICS state that an average family produces 12 to 15 litres of water a day through everyday activities, such as cooking, bathing, washing and drying clothes. This moisture can turn into condensation.
Your home can cope with the moisture levels produced by everyday activities, provided it is adequately heated, insulated and ventilated. This is often referred to as the condensation triangle. If any of these change and the moisture levels become too much, it will create the conditions for condensation.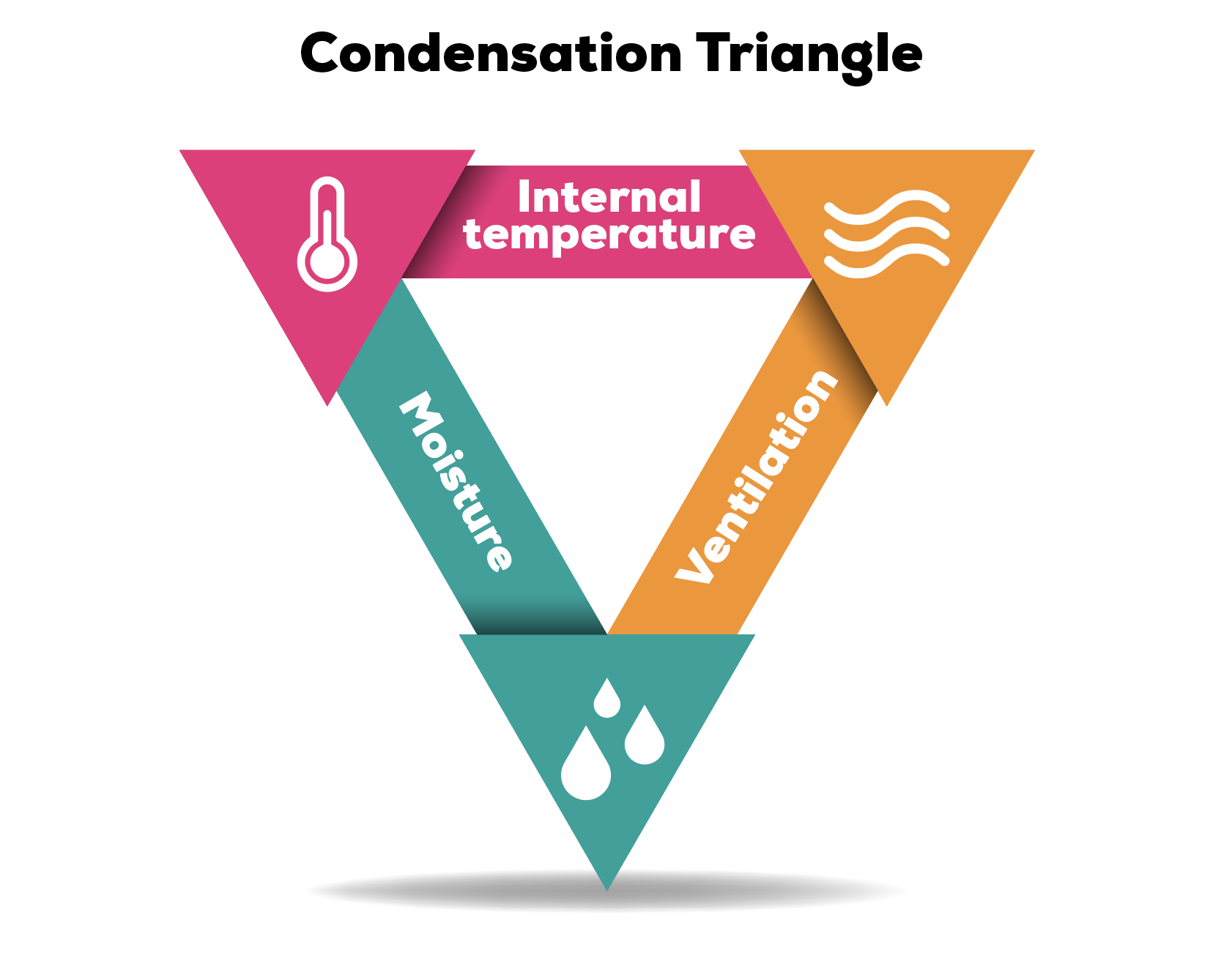 If not dealt with correctly, this can cause moisture to form on colder surfaces inside your home, such as windows, mirrors, external walls, ceilings and tile grout. This, in turn, will cause mould growth.
Small amounts of mould growth can be removed using a proprietary mouldicide wash available in all major supermarkets as part of a regular cleaning routine. If you experience reoccurring mould that you cannot keep on top of as part of a normal cleaning routine or have any concerns about reoccurring mould growth in your home, please contact us so we can investigate.
It is important that we resolve any damp and mould problems now and reduce the risk of them reoccurring in the future. To do this, we have trained more of our team to identify and help resolve damp and mould problems. We've made this video to help you understand some simple steps that can be taken to reduce the risk of mould.
By working together, we can discover the root cause of damp and mould problems. Investigations can be complex and we will need to monitor situations to fix the problem. There could be an underlying defect that we need to repair or small changes that can be made to how your home is heated and ventilated.
Since damp or black mould can reoccur over time, we will contact you 3, 6 and 12 months after the repairs have been completed to ensure your problem has been resolved.
Our customers' feedback after our recent investigations for damp and mould has been very positive. They told us…
"They were very thorough and explained everything in detail. Polite and helpful. If a higher score could have been given, I would have given it."
"The inspector gave me a clear guide on when the issue is likely to be resolved and the plans for resolving it. He took his time to explain."
"They were really polite, and to be honest, the visit didn't feel like a survey but a mate coming round for a chat. I was well informed about what work was to be carried out and would be contacted near the time. Excellent. Can't fault it."
"The inspector acted politely and professionally. He was sympathetic to the issue, and I finally feel like the ball is rolling with the damp problem."
If you are worried about damp and mould, struggling to heat your home, or want more information, please get in touch with us on 0300 303 1717 or email talktous@taicalon.org. You can find helpful information on our website: www.taicalon.org. Our team want to help you.